This torque limiter is part of a hoist system that raises and lowers large barrier grates that allow the flow of water from a drainage waterway adjacent to the Sacramento River, but prevent spawning salmon from swimming in. A torque limiter was needed to provide a means of slipping the hoist system  – effectively lowering the grates automatically when an excess of force is caused by the build-up of debris preventing damage to the weir structure and equipment.
Unique challenges of this application were addressed through custom design:
Installation between SEW compact helical gear box and SAF77 gearbox
The torque limiter housing has non-standard B5 input and output along with an integral adapter.
The unit must support a 255 pound overhung load.
The housing was specially designed to provide the required support of the SAF77 gearbox and Rototork actuator.
24/7/365 outdoor exposure
The housing provides complete enclosure of the internal components.
The slip torque setting needs to be adjustable onsite.
Two ports covered by sealed, removable panels allow access to the adjustment nuts. After loosening a jam nut with an open end wrench, the adjustment nuts can be rotated to increase or decrease compression of a disc spring which raises or lowers the slip torque setting. The torque limiter remains in place throughout the process.
To view the spec sheet for this torque limiter, Click Here.
Read the full application feature on Design World Online.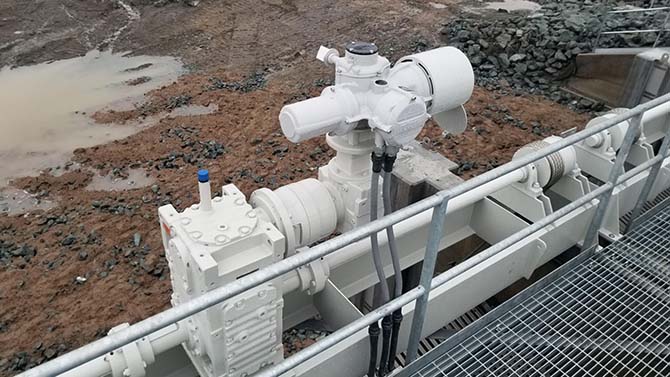 One of 6 hoist systems, including the torque limiter, in place atop the Wallace Weir.