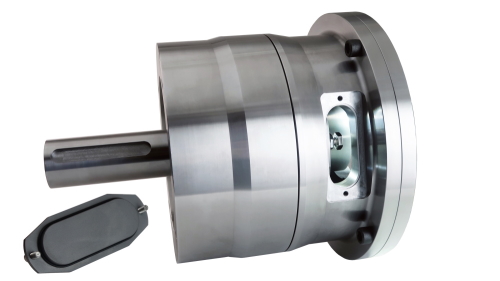 Before the development of the Wallace Weir Fish Rescue Facility, adult salmon returning from the sea to the San Francisco Bay faced a perilous situation. Due to the various drainage and flood-control canals in the area, many fish swam into and became trapped in basin drains, where they would die before spawning.
To avoid this outcome, Sacramento Valley organization Reclamation District (RD) No. 108, along with various state and federal agencies, designed a special hoist system that raises and lowers grated barriers called picket weirs. These large barriers let the water flow but prevent the salmon from swimming into the dead-end basins.
Critical to this hoist assembly is a steel torque limiter that automatically lowers the grates whenever debris buildup, caused by flooding, creates a sudden and dangerous spike in force that threatens the integrity of the equipment.
To fit this application's requirements, our engineers customized a special T8C3K-001 series torque limiter. These B5 flange-mounted units include a nonstandard frame size, have a 55-millimeter input bore and output shaft, and feature a 17,000 pound-inch torque capacity. In addition, these units are:
Strong. The torque limiters feature special housing that supports the dead weight of the actuator and right-angle gearbox for a total of 255 pounds.
Durable. Units can withstand constant outdoor exposure without fail. To this end, the torque limiter's housing completely encloses all internal components.
Easily adjustable. Units facilitate on-site adjustments to the slip torque setting. Two ports — covered by sealed, removable panels — provide easy access to the adjustment nuts. After loosening a jam nut with a wrench, users can rotate the nuts to adjust the compression of a disc spring that raises or lowers the slip torque setting. Throughout this adjustment process, the torque limiter remains in place.
We supplied six torque limiters — one for each hoist — that successfully hold the 16 x 29-foot grates in the raised position. If forces against the screen due to debris buildup surpasses 13,500 pounds, then the force travels back through the helical drive and into the torque limiter, where it exceeds the unit's set 13,000 pound-inch torque value. This causes the torque limiter's internal friction and drive surfaces to slip against each other, letting the force on the grate unwind the cables, which in turn lowers the barrier and allows the debris to flow over the grate.
To learn more about this application, check out our feature in Design World magazine.