Our Mechanical Friction Torque Limiters are designed to slip so that the torque never exceeds a pre-set amount during momentary overload, protecting the drive and other components from damage. A recent application involving pharmaceutical machinery demonstrates these principles and also highlights our ability to design and deliver custom torque limiters quickly.
Friction Creates Challenges on a Conveyor Belt
The company, a pharmaceutical equipment manufacturer, contacted us after breaking four belts while testing a new machine they had designed for a customer. The issue involved a section of the conveyor where packaged pharmaceutical products accumulated against a hard stop. From there, a suction device was supposed to lift the products to another station for transport. However, whenever the products reached this hard stop, friction between the pharmaceuticals and the rollers created a spike in torque, causing the 20-millimeter textured belt that drove the rollers to break. This belt was driven by a pulley that connected to the output shaft on the gearbox.
After investigating the motor, gearbox and belting, our engineers determined that a torque limiter, placed on the gearbox output shaft, would prevent the belt from breaking when set to a slip torque of approximately 100 lb-in. A big challenge, however, was the small amount of space available for this component. The output shaft of the gearbox had a diameter and length of 30 and 80 millimeters, respectively. In addition, the torque limiter had to be able to withstand washdown.
Achieving the Required Torque in a Limited Installation Space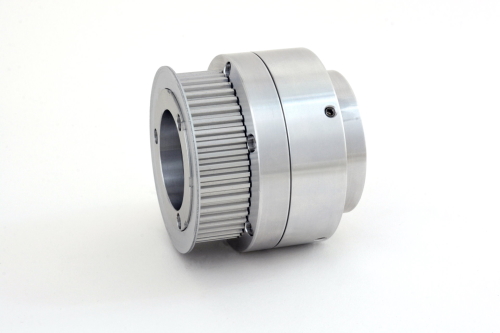 To meet these requirements, we designed a torque limiter that utilizes a stack of Belleville springs to provide the required torque capacity. We mounted the pulley that drives the belt directly on the torque limiter. Due to this design, the company didn't have to alter the machine frame or reposition any existing components. Rather, the torque limiter fit within the existing space on the gearbox shaft. Outfitted with aluminum, enclosed housing, the torque limiter also successfully met the application's washdown requirements.
Once we designed this custom torque limiter, we took this project from design to delivery in about five weeks, enabling the company to retrofit its conveyor and deliver the pharmaceutical machinery on time.
To learn more about our custom torque limiters, please visit our product page.