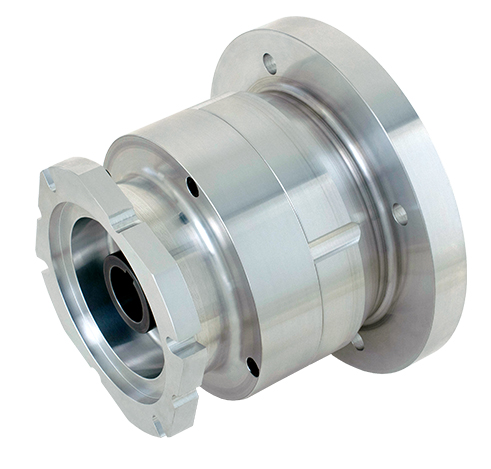 In our last blog post, we highlighted a recent application for which our engineers customized miniature torque limiters for MRI machines. This month, we're exploring an application that involved a custom servo brake for a fully automatic, nonwoven rewinder machine that processes rolled wet wipes — e.g., disinfecting, industrial, medical, gym, shopping cart and specialty wipes.
The rewinder machine, which processes up to 400 feet per minute and handles web widths from 12 to 42 inches, required emergency stopping brakes for its servo motors. Specifically, these power-off brakes would hold the machine's steel rotary knife — which is 7.25 inches in diameter and 49 inches long — that perforates the wipes.
In the past, we've supplied this customer with small brakes that mount between a 145TC NEMA motor frame and custom 4B flange, with a torque capacity of roughly 300 lb-in. This rewinder machine, however, required brakes that would fit between a 10 HP 215TC NEMA motor and custom 4B flange, and provide 1,200 to 1,500 lb-in of torque.
To meet these requirements, we developed a custom spring-engaged friction brake that releases at 60 PSI and has a torque rating of 2,214 lb-in. These brakes remain energized even in the absence of air pressure and are ideal for any application that requires holding to prevent the rotary motion of a load. You can learn more about how our spring-engaged friction brakes work here.
Learn More About Our Custom Servo Brakes
Over the years, we've developed dozens of servo brakes that can be integrated into IEC, NEMA and even non-standard frame motors and gearboxes. We've done it all — from providing metric dimensions on one side of the brake and imperial on the other, to connecting a motor of one frame size with a gearbox of another. We've also developed custom brakes to fit within tight spaces, meet food safety requirements and much more.
To learn more about some of our latest custom brake solutions, check out our webpage. You can also drop us a line to talk to one of our engineers.