Finding a standard air clutch that will satisfy all your technical requirements can be tough given the diversity of power transmission applications. That's why our engineers will customize any clutch within our standard catalog to fit your exact needs. To take a recent example, we tailored one of our standard air clutches to retrofit an automotive gearbox torque testing rig.
Torque Inc., a Mach III distributor, had to supply a clutch for a customer's testing assembly that connected to an automotive gearbox housed within a climate controlled chamber. The objective was to model a vehicle's inclination using gearing at different operating temperatures under both high speed/low torque and low speed/high torque conditions.
The Trouble With Torque Testing
Initially, Torque's customer had sourced a competing manufacturer's clutch and found that the recorded data was not as granular as they had wanted. The data was also inaccurate due to the clutch sticking and slipping. After Torque consulted us, we provided a custom clutch that overcame these challenges.
The C6A4R-001 clutch features two separate cylinders — one small and one large — to satisfy the required torque range of 30:1. Depending on which end of the torque spectrum a customer desires, the air supply can connect to either the small or large cylinder. Additionally, the sticking and slipping of the old clutch was no longer an issue, thanks to our clutch's low-friction coefficient linings. In terms of torque capacity, the C6A4R-001 small cylinder achieves 3,048 lb-in at 80 PSI, and the large cylinder achieves 9,078 lb-in at 80 PSI.
A Second Clutch With More Torque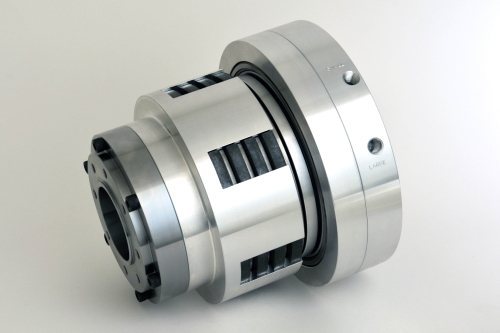 Months later, the same Torque customer decided to conduct more testing at a greater torque capacity, requiring that the same testing rig be retrofitted with a new clutch. We designed a second clutch — the CAA4K-001 — with the same length (215 millimeters) and bore size (75 millimeters) so it fit into the testing assembly without modification. The CAA4K-001's torque capacity is as follows:
Small cylinder: 4,460 lb-in at 80 PSI.
Large cylinder: 17,730 lb-in at 80 PSI.
Thanks to our ability to deliver high-quality custom products, we successfully met Torque Inc.'s research needs. To learn more about our custom clutches, visit our webpage.