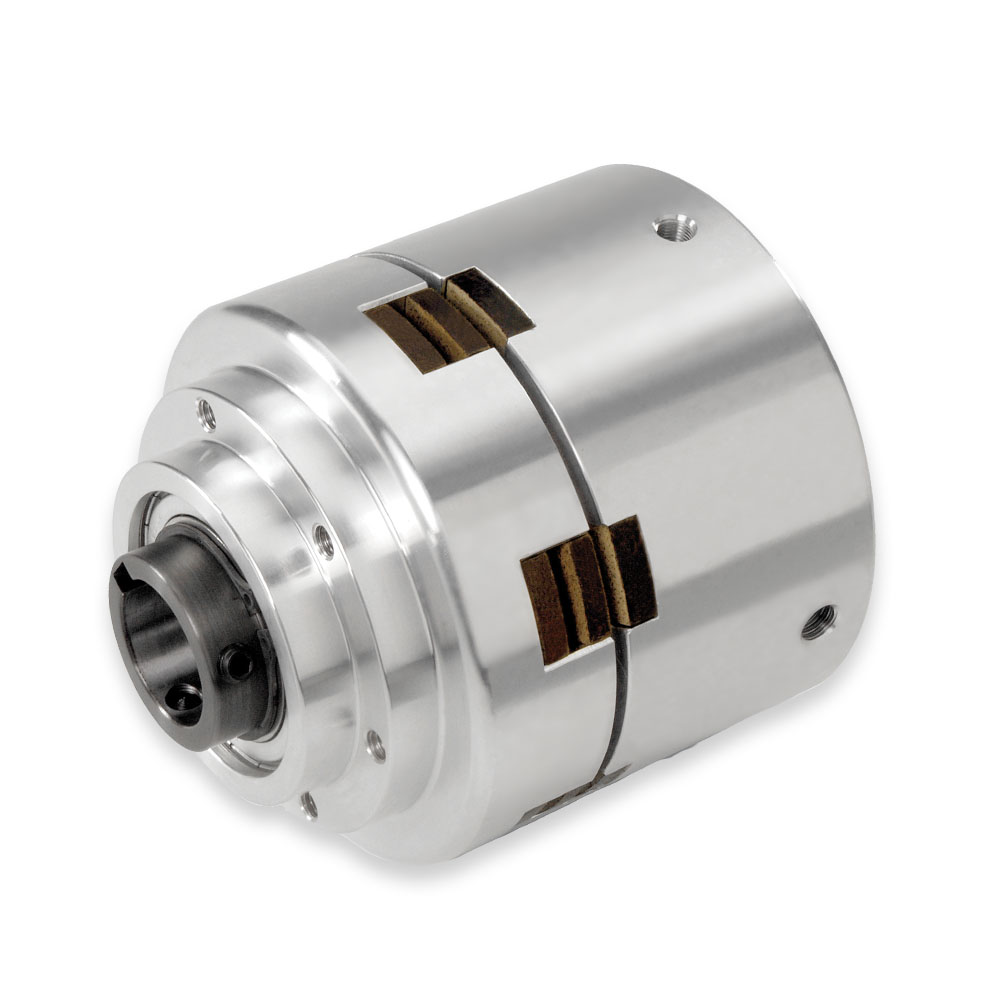 Pilot Input Clutch-Brakes To Stop and Start the Shaft
Combination Air Applied Clutch and Spring Applied Brake
Function: Starting and Stopping / Holding The Shaft
Drive Arrangement: Pilot Mounted Component to Shaft
Operation
Applying air pressure releases the spring applied friction brake and engages the friction clutch.
Torque of the clutch is linear in response to air pressure applied above the brake release pressure.
Brake torque is fixed by spring pressure.
Mounting
Through (Mid) Shaft or End of Shaft.
Clutch Brake slides on shaft and is fixed with set screws and a customer supplied key.

Anti-rotation arm

required to react, brake, and prevent rotation of the air housing.
Clutch Brakes are designed for horizontal mounting. If vertical mounting is required, consult engineering for options.
Applications
Stop/Start, Cycling, Indexing with input from a constantly driven sprocket or pulley.
For applications with small brake torque requirement.
Maximum RPM varies by model and is listed on the PDF detail sheet (see table below). Consult engineering if the intended application exceeds the listed maximum RPM.
Design Features
Clutch and brake combined in one unit for simplified mounting and control.
Clutch brakes are bored to suit up to the maximum shown (US & Metric) for easy installation.
Machined pilot for easy mounting of pulley or sprocket.
Customization Options
All Mach III products can be customized to meet the needs of your application.
| Product No. | Clutch Torque @ 80 PSI | Spring Set Brake Torque | Brake Release Pressure | Maximum Bore with Standard Keyway (Inches / Millimeters) | Detail Sheet | Request 3D CAD Model |
| --- | --- | --- | --- | --- | --- | --- |
| X3A2H-STH | 275 lb-in | 19 lb-in | 15-20 PSI | 0.625 in (16 mm) | View PDF | Request |
| X4A2H-STH | 712 lb-in | 62 lb-in | 20-25 PSI | 1.250 in (31 mm) | View PDF | Request |
| X5A2H-STH | 1,482 lb-in | 163 lb-in | 20-25 PSI | 1.438 in (38 mm) | View PDF | Request |
| X6A2G-STH | 2,706 lb-in | 256 lb-in | 20-25 PSI | 2.000 in (52 mm) | View PDF | Request |